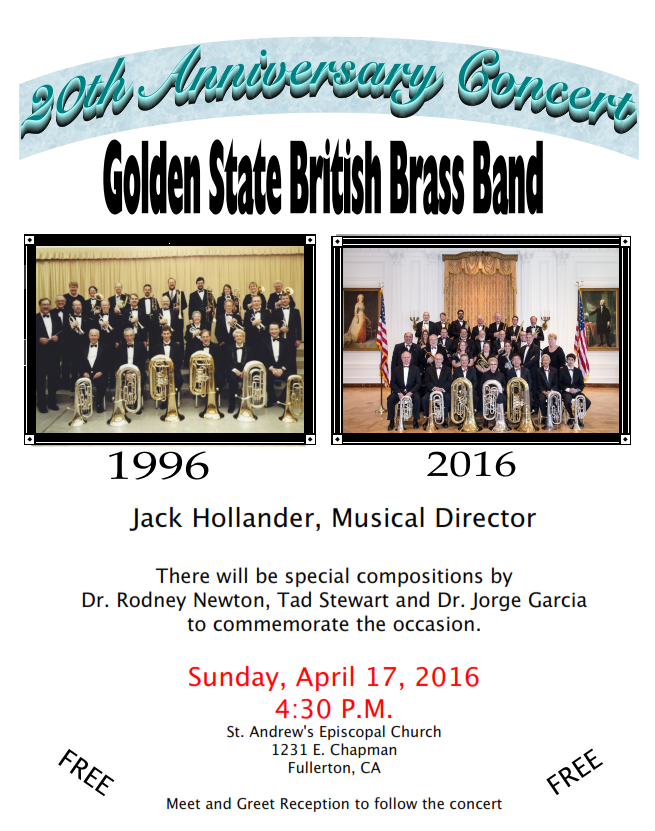 The Golden State British Brass Band celebrated its 20th Anniversary by presenting a concert on Sunday, April 17, at 4:30 P.M., at the St. Andrews Episcopal Church, in Fullerton. (Download the flyer as a PDF.) We performed 3 pieces commissioned by notable composers specifically for this occasion:
Dr. Jorge Garcia, a member of GSBBB, composed a Fanfare for Golden State to commemorate the occasion.
Dr. Rodney Newton, who lives near London, England came over for the event and conducted his composition, Pictures From Yosemite, written for this occasion. This piece depicts 5 places in Yosemite: "El Capitan," "Yosemite Falls and Cooks Meadow," "Cathedral Peak," "The Half Dome by Starlight," and "View from Glacier Point."
Tad Stewart, who is one of the band's favorite composers, came here from Ohio to conduct the piece he wrote for our anniversary, entitled A Celebration Suite. The band also played some of his other pieces on this concert.