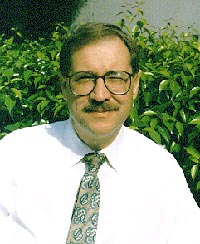 Dr. John Swain
Founding Conductor, Golden State British Brass Band
---
John Swain was a charter member of the Golden State British Brass Band, and served as its principal and later associate conductor from the group's founding in 1995.
John passed away on August 3, 2003, at the age of 52, after a long struggle against colon cancer.
John was born on August 12, 1950 in Yankton, South Dakota, and grew up in nearby Tyndall. He did his undergraduate work at the University of South Dakota, receiving a BFA in Music in 1972. Subsequent to graduation John was commissioned as a lieutenant in the US Army, where he served for two years.
In 1977 John completed MM studies at the University of South Dakota. In 1986 he received a PhD in Music from Michigan State University, where he studied with William Lake and Philip Sinder.
From 1978 to 1984 he served as Director of Bands and Associate Professor of Music at Olivet College in Olivet, Michigan, where he also served as Chair of the Department of Performing Arts in 1984. Prior to the Olivet appointment he taught in the public schools in South Dakota.
For nineteen years John served on the music faculty at California State University, Los Angeles, where he taught instrumental music education and low brass. He served as Chair of the Department of Music from 1988 to 1993 and was most recently the Associate Dean of the College of Arts and Letters. In addition, John served as the chair of the University Music Administrators of California, and as chair of the California Council on Music Education.
John was also an active performer, both as a low brass specialist and as a singer. He performed with the Los Angeles Gregorian Schola, the Pasadena Pro Musica and as a freelance instrumentalist has performed with ensembles such as the California Brass Ensemble and Rising Winds Chamber Ensemble.
In addition to conducting the GSBBB, John served as a guest conductor for a variety of instrumental ensembles in Southern California and farther afield. He served regularly as an adjudicator and clinician for band, orchestra and choral festivals. His published texts include "The Brass Instruments: A Reference Manual". He was also a composer/arranger of works for band, brass band, orchestra and small ensembles. John also served as a judge for the Bravo Awards, sponsored by the Music Center / Performing Arts Center of Los Angeles County.
A scholarship fund in John's name is being established at CSULA. Anyone desiring to contribute may send checks made out to CSLA Foundation / J. Swain Scholarship to the following contact address:

California State University, Los Angeles
College of Arts and Letters
5151 State University Dr.
Los Angeles, CA 90032-8100
On September 10, 2005 the Golden State British Brass Band premiered Fiesta de la Vida, by noted composer Philip Sparke. This piece was commissioned by the band in John's memory.
---


Back to GSBBB homepage
Go to GSBBB roster
Last updated September 10, 2005